The FCH Difference – What Makes Us Successful
Since 1981, the Foundation for the Children of Haiti ("FCH") has had tremendous success in making a difference in Haiti.
Our effectiveness is rooted in the following distinctive characteristics that we have built upon over the past 3 decades:
1. Haitian People Caring for Haitian Children
FCH was established by, and continues to be directed by, a Haitian woman – Gladys Thomas
All the employees at our orphanages, schools and hospital are Haitian. These dedicated workers understand thelanguage, culture, strengths and challenges of the children they serve.
Haiti is their home, and they are completely committed to building a brighter future for their country.
For over 3 decades, FCH has demonstrated that lives can be profoundly changed when Haitian caregivers – who know andlove their country – provide care to needy Haitian children.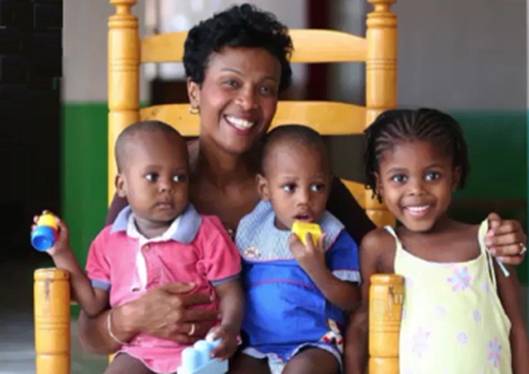 As a fully Haitian organization, FCH is completely integrated with the local community – engaging with local merchants, tradesmen, churches,neighbours.
This allows FCH to have an influence on the community by touching people at a personal level.
Using local suppliers and workers is much less expensive and more effective that using resources from outside the country,allowing FCH to get the utmost from its financial resources.
This integration with the community also bolsters the local economy, having a positive impact on the lives of Haitian businesses and workers.
2. Leveraging our Resources
During our many years of service, the Foundation has developed strong relationships with local and international agenciesin Port au Prince, providing additional resources to care for people in need.  
3. FCH has one focus - Haiti
FCH does not have activities in other countries.
All resources are dedicated to sustaining and building our well-established activities and facilities in Haiti.  
4. No Fundraising Expenses
The Canadian Foundation for the Children of Haiti – which raises financial support for the workof the Foundation in Haiti – is an all-volunteer organization.
CFCH does not advertise. Local expenses run around 1% of donations.
This means that 99% of your donation goes directly to support the work of FCH in Haiti.
5. A proven track record of making a difference
FCH has been changing lives in Haiti since 1981. That's over 3 decades of dedication and commitmentto Haitian children and Haitian society.
The knowledge, experience and relationships built over all these years has made FCH extremely efficient and effective, possessing ahigh level of expertise in the areas of child care, education, healthcare and care for people with special needs.  
For our organization, "making a difference once child at a time" is not a slogan, it's a way of life.
The Foundation's story is one of dedication to Haiti since 1981, and we are committed to continuing this legacy.
Making a difference, one child at a time
Canadian Foundation for the Children of Haiti
6093 – 145A Street.
Surrey, B.C. V3S 4R6
-or-
Click on the "Make a Donation" button above.
The Canadian Foundation for the Children of Haiti ("CFCH") is an all-volunteer fundraising organization that has supported the work of FCH since 1993.
Canadian Foundation for the Children of Haiti
6093 – 145A Street.
Surrey, B.C. V3S 4R6
CFCH is a Canadian Registered Charity
Canada Revenue Agency Business Number 89000 4591 RR0001